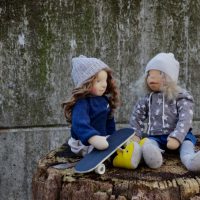 The two "Berliner Gören" dolls Kiki and Carla move to a farm in West Germany. There they should bring a bit of big-city feeling to the idyllic village of Unterrosphe, not far from the famous green University town Marburg.
Their adoptive mother Anja has four children and even more grandchildren. However, the dolls will be hers first and foremost. She looks for something special on dolls, and that's what she found in Carla and Kiki.

Anja and her husband run a farm with 70 cows and calves, chickens for their own use and a few cats. They are struggling with the bureaucracy. The authorities want to push them towards factory farming. It's hard for a small family business like Anja's to survive economically. There is more support for conventionally working factory famers. In my eyes, that is a shame for our country! I hope that the two courageous Berlin dolls here support the rebellious spirit of the family and do not let them give up!
Carla and Kiki are my first two "Berliner Gören" dolls, so of course they are also special favorites for me. I am glad that they come to such a loving place, where they are very much appreciated. Also and especially for their Berliner spirit.
Goodbye, Kiki and Carla, I am glad that you have found such a wonderful home!


If you wish a doll like Kiki or Carla according to your wishes, let me know by e-mail.