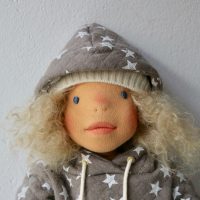 Say hello to skateboard doll Carla, my second Berliner girl ("Berliner Gör"). Carla (20″/800g) looks very innocent and has a finely curved mouth, but she is a confident skater girl with hoodie and casual hat. With her skateboard, built especially for her by my husband, she is around in Berlin-Mitte and the Southern Wedding. She likes to mix with the young skaters at Pappelplatz at Invalidenstraße.
Carla has a slender body and is extra heavy: she measures around 20″ and weighs 800 grams. She wears a cool hoodie made of soft sweat fabric with stars, plus a cashmere and wool knit leggings and a cap made of 100% wool white cashmere knit. Also ankle-high sneakers made of wool felt.
Carla with skateboard is available for 400€ directly from me by e-mail (plus shipping costs), or for 430 euros in my Etsy shop (shipping included).
But see for yourself. The photos on the skateboard were made by holding Carla on three (almost invisible) threads, like a puppet.








If you want to purchase Carla, send me an e-mail, or have a look at Carla's Etsy shop listing (430 Euros, shipping included).
I wish everybody a happy advent season!