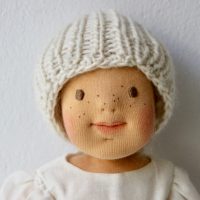 Leni is a real Berliner girl ("Gör") with her cheeky, chubby needle-felted face. But her outfit is more of the variety "fine and pure". That too exists in Berlin, because Berlin is diversity. Not all "Berliner Gören" are cool skater girls like Carla. Especially in Berlin-Mitte there are many fine and exclusively dressed children. And fortunately, they are not always snooty and niniminy-piminiy, but they are allowed to be wild in their fine things. Berlin moms know that being outside and wild is part of a happy childhood. And so the well-dressed children are allowed to play in the bushes, climb trees and bake mud cakes. Such a girl is Leni: A lively, active child with open eyes, big heart and cheeky sayings on the lips. Despite her fine clothes.
By the way, Leni can stand independently on her fine antique leather shoes!
Her outfit are made of the finest fabrics: Her natural white dress is made of the finest organic cotton voile, which is an almost transparent cotton fabric. Very fine and light. A subtle lace border runs around the hips. She wears an equally light cardigan made of the finest, warm mohair with very fine, unobtrusive sequins. Very subtle glitter. The legs are warmed by a leggings made of natural white sweat fabric, which is very soft on the inside. And on the head sits a cheeky knitted cap made of natural white sheep wool. Because the head has to be warm in Berlin because of the strong winds. 
Her hair is fine long mohair strands, which are sewn on a crocheted wig. They are braided in plaits, but you can also style them differently. The hair is slightly longer than shoulder length. Leni is currently available in my Etsy shop (€ 420 including shipping costs), or directly by e-mail.










If you are interested in Leni, look at my Etsy shop (€ 420 including shipping costs), or send me an e-mail to my personal inbox.
Sharing is caring: