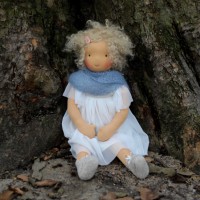 Angela is a very special doll – at least for myself. When her hair made of mohair wefts was finished, the doll just looked like an angel, and so I named her "Angela".




Since she looks like an angel, Angela got an elaborate tulle dress with a velvet ribbon on the back. A warm, soft knitted scarf made of powder blue mohair keeps her warm in the cold season. Undies and felt shoes give more warmth from below.
Yesterday, I took Angela and a whole bunch of other dolls with me to take photos in the neighborhood park. I only ride one minute by bike to the huge park "Humboldthain" with its wonderful, nearly enchanted trees. They make a perfect seasonal background in any time of the year.
Features:
– blond curled hair (mohair wefts)
– neck
– dark powder blue eyes
– white tulle dress with velvet ribbon on the back
– cotton batiste panties
– light powder blue mohair scarf
– extra weight
– size: 18 inches
– weight: 18 ounces (506 grams)
Angela is available for € 320 excl. shipping. If interested, please send me an e-mail to maike.coelle@feinslieb.net or have look at my etsy shop.