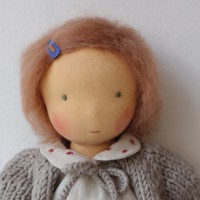 Aurelia (18″) is my second sweetheart these days. She has a very tender expression, probably due to her neck and her fine Dolly Mo hair. Her dress is of pure organic linen. I added a traditional lace and some embroidery on the collar. Since the season is cold, she also got a warm wool cardigan, long white undies and felt shoes.
I have worked many, many hours on Aurelia, and she developed a lot of a beautiful soul in the process (well, so it feels for me). She became a sensitive and slightly cheeky person. Which she proved when I took photos of her and the other dolls in the park. More details on her outfit below.

Details on her clothing:
– Hair: Brushable Auburn mohair (crocheted wig)
– Eyes: Moss green
– Dress: natural white/beige organic linen, embroidered on the collar, traditional lace
– Cardigan: beige, hand knitted, soft natural wool
– undies
– felt shoes with white laces
– natural white hat (100% sheep wool)
– Size: 18,5 inches (47 cm)
– Weight: 18 ounces
Her dress is made of 100% natural linen, carefully sewn and embroidered on the collar. Her panties are made of a tender cotton batiste. She comes with a hand knitted cardigan in a natural beige tone, just fitting the natural color of the linen dress, and a hand knitted hat from 100% natural sheep wool. The dress is closed on the back with velcro and is easy to put on and off . She also comes with a pair of beige felt shoes (100% wool) with white shoelaces.
Aurelia is made of natural materials and very carefully sewn together. Many seams I do trifold by hand in order to guarantee a very good "German handmade" quality. She is thoroughly stuffed, so that she keeps in shape for a long time. She has some extra weight due to some cleaned sand in the tips of her hands and feet. She feels like a real little child in your arms.
Aurelia is available for € 320 excl. shipping. If interested, please send me an e-mail to maike.coelle@feinslieb.net or have look at Aurelia's listing in my etsy shop.
I wish you a good pre-Christmas weekend!