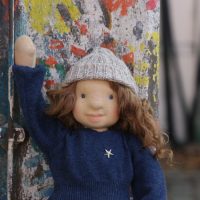 Update October 28th: Kiki is available in my Etsy Shop here, or directly at maike@feinslieb.net.
Kiki is the first one of a new series of dolls that I call "Berliner Gören". "Gör" is a typical word from Berlin and means something like "cheeky girl". For years I've been thinking about making modern "big city dolls". After all, I live in the center of Berlin, and I am surrounded by the buzz of this creative city every day. For a while I had been thinking of developing a kind of realistic proportioned cloth barbies wearing typical Berlin fashion. The diverse, unadapted Berlin lifestyle is unique in the world. And Berlin is an internationally recognized fashion metropolis, too, fed by the idiosyncratic style of its young residents and fashion designers. With the dolls of the series "Berliner Gören" I want to capture the lively, multicultural and progressive lifestyle of this wonderful city. They can be cool big sisters or brothers for smaller doll children.

Kiki (45 cm) is a typical Berlin girl: cheeky, boyish and self-confident. But because her environmental awareness is strong, she prefers natural materials and sustainable fashion. Kiki wears bright yellow wool-felt sneakers, a pair of short knickerbocker trousers 8100%natural linen) and a cashmere sweater with a metal star. The sweater she made herself out of a flea market find. She always has her glitter silver backpack with yellow straps with her – a typical Berlin accessory of these days. Her brown curls are wild and untamed like her current whims, which goes well with her freckles, her saucy snub nose and her big mouth. When her hair annoys her and the unruly streak falls into her eyes, she puts on her beloved sheep wool hat. She bought it at a thrift store in Berlin-Neukölln.
Kiki likes to be outside and is always on the move. Sometimes she is at the Maybachufer in Kreuzberg on the Turkish market and tastes herself through the oriental delicacies. Sometimes she crosses the Weddinger Brunnenviertel in search of interesting landscapes for her sporting passion: Parcours. Sometimes she just goes to the museum and dreams of others times and countries.
Kiki is not a toddler or a primary schoolchild. She is a young teenager with everything that goes with it: she tries herself out, puts her feelers into the world and into the urban jungle. But sometimes she just wants to cuddle, plays with her younger siblings and earns a bit of pocket money with babysitting.
I will accompany Kiki through Berlin in the next few weeks. You can follow our paths on Facebook and Instagram (@feinslieb_maike). If you are interested in the "big sister" from Berlin, please write to maike@feinslieb.net.
How do you like the idea of ​​the "Berliner Gören"?






Kiki is available in my Etsy shop (€ 360, shipping included).
More pics: