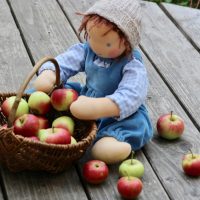 Today I show you pictures of the 18″ baby boy Gustav. His dollmama Frida recently got a brother. Then Frida's mom thought that a baby doll would be a nice present for the new sister. I was very happy to make a baby boy again.
I let Gustav play a bit with our freshly harvested apples before leaving for his new home. And he also took a nap in our doll bed. I wish you all the best, Gustav, with your new mum!












Until Christmas, I still have the capacity for two or three dolls. If you would like to give your child something special, please send me an e-mail to maike@feinslieb.net
I wish you some more warm autumn days!
Maike