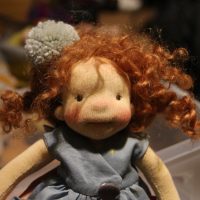 What a weekend! My heart still beats when I think back to certain moments we experienced at the European Waldorf Doll Seminar at Elspeet in The Netherlands. The warm May evenings, dozens of dollmakers sitting outside under linden trees on bales of straw, under a fat yellow moon, felting, stitching, talking, laughing and sipping wine. The concentrated atmosphere in the workshops under the guidance of the most talented and skillful dollmakers worldwide. The beautiful creatures we made, small ones and tall ones, sculpted and simple ones. The funny and philosophical moments we shared. The languages we spoke (including the language of dolls), the new skills we learned, the feeling of "WE" we sensed… In short, an experience of pure luxury: 3 days of being together with likewise people from 24 different countries, in a beautiful surrounding, and indulged to the most electrifying and satisfying occupation imaginable: Dollmaking.
Dolls and dollmakers of all kinds and sizes
We were more than 100 makers and dollmaking lovers from all over the world, and plenty of dolls in all sizes and styles. Beautiful dolls were brought to and created at Elspeet, from 1,5 inch size to 20 inches, with all kinds of hairs, forms, styles and outfits. So many AAAH!s and OOOH!s when a doll was shown around, so many lifted skirts and shirts, so much pressing and caressing. On Friday evening, Hannah from Stoffoli Dolls (Edinburgh/Scotland) sighed: "Poor dolls in all over the world who can't be part of this great doll party!" And she was right, our dolls seemed to enjoy the party as much as we, their makers, did 🙂
(Fotos below!!!)
THANKS!!!
My thanks first goes to Kamrin and Berend te Kronnie from Kamrin's Poppenatelier who organized and sponsored this stupendous event. You can't imagine how many questions and tasks they solved in the past 4 days (and in the many months before)! You did a great job and will for sure have a place in doll heaven for this! <3
Secondly, of course, a big THANKS goes to our wonderful, wonderful, wonderful tutors, who worked so hard, made the most elaborate preparations for the participants, and shared so much of their precious knowledge and skills:
Thanks for the grab sack, Sabine! <3
A third thanks goes to Sabine Cardinal from Bienchen and Blümchen (Germany) who had the great idea of a "grab sack": Everyone brought a dollmaking-related present and put it into a big sack. On Saturday evening, we were all allowed to draw one of the presents from the sack. We found the most wonderful surprises: Leather doll shoes (everyone was jealous :-), pocket dolls (for instance, Maria Asenova received just beautiful handmade minidolls, a snowflake, a "Wurzelkind", and a wooden Matroschka!), vintage dollmaking materials, rare fabrics and hand-dyed wool. Here, we heard many more AAAH!s and OOOH!s. I got a precious package with a fine tea from Florence, a special fabric and vintage laces from the stash of my giver's family of traditional tailors. Wow! Thank you so much!
Doll play by Ineke Gray
There also was Ineke Gray's precious doll play on Friday evening. Ineke from Petit Amsterdam is one of the finest dollmakers in The Netherlands (I guess everybody knows!). She often includes storytelling and plays into her teaching. I was unfortunately hindered by a sudden incident to see her "Flower market" play, but I heard from several participants that it was a very special moment and an engaging mood: intense, quiet and beautiful in a soft way. I hope I have the chance at another time to see one of her plays.
Praise to the tutors
When many participants met after dinner on the straw bales outside to finish some tasks from the workshops, and to share our experiences, I chatted with many of my fellow dollmakers. I have not heard a single participant being discontent or even slightly critical with her workshop. Everyone's eyes were shining, everyone went into rhapsodies about the tutors and the skills learnt that day. Some of us couldn't stop felting, stitching or crocheting even when the sun went down. (Well, some tutors like Meglena or Fabiola had assigned homework for the evenings.) I think I can say that all the workshops were just great. I felt that many participants thought to themselves: "I am so lucky, there can't be a better workshop than exactly mine!"
This means that everybody was just in the right place, that the standards were high in every workshop, and that valuable skills were taught everywhere. It couldn't have been better!
My personal THANK YOU! goes to
The textile market
I found it a very good idea that participants were allowed to present handmade items at the textile market on Saturday. Anyway, the textile market was a big party of colors, beautiful materials and handicraft. The room was full of the best merchants for natural materials, vintage items and dollmaking supplies available in the Netherlands. I took the chance and bought quite a few things to use for dollmaking, including some Dolly Mo yarn, since it provides still the best colors available in Mohair yarn.
And now…. PHOTOS!
The photos give information I didn't mention in the text above!
Photo disclaimer: Sorry for not showing any human faces, I don't yet have the permission by the participants. According to the new data protection guidelines, I am thus not allowed to show any faces here. If you want me to post pics with faces, please send me an e-mail with the text "I hereby give Maike Coelle the permission to post photos with my face on her blog (www.feinslieb.net) and on Facebook, at the Facebook group "European Waldorf Doll seminar" and on the Feinslieb Facebook page. I furthermore allow Maike Coelle to forward pictures of the event by e-mail or WeTransfer to the organizers Kamrin and Berend te Kronnie for the use on their website and in the above-mentioned Facebook group of the event." Your name (+dollmaker name).
As soon as I have ALL PERMISSIONS, I will post more photos.

If you liked this post, please don't hesitate to share. Sharing is caring, you know 😉
And my last but not the least THANKS goes to all the other participants. Every maker, be it a professional, a semi-professional or a hobby dollmaker, enriched the event with her experience, her thoughts, her feelings and her inspiration.
This is what is so great about dollmaking: Inspiring yourself and others! <3 <3 <3
Interesting Links
Two participants from Turkey produce a new, cost-saving, doll trikot (which is even CE-marked!!). The fabric has the same high quality like the fabrics by Laib Yala and De Witte Engel. If I understood it right, the heavier, denser fabric ist quite like the one from DWE and the lighter one is like the light one from Laib Yala. If you're interested, follow them on Instagram (@waldorfia_hago). They work on a website and are about to launch the product. Here you can find an interview with Oya from Waldorfia Hago about dollmaking in Turkey on the Mariengold website. (I don't get payed for this information, I do it completely voluntarily because I find it interesting.)
Follow Maike on Instagram: @feinslieb_maike
feinslieb on Facebook: www.facebook.com/feinsliebdolls