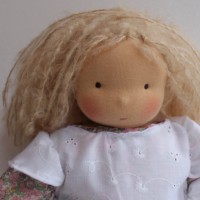 Doll girl May (18″ / 45 cm) is on her way to her new home in Menard, Texas, USA. Funny enough, "Menard" is the surname of the (female) priest in the beautiful shabby-chic Lutheran church in front of our house. So I found it a nice idea to take some pictures in the church. May had fun posing in the crib and in the Advent wreath, and also climbing the stairs to the pulpit. To see the photos in full size in a gallery mode, please click on one photo. You can then click through the images.
It was great fun for me, too, because May was a wonderful model. She is so firmly stuffed that she only needed little support to stand upright, and allowed for different natural poses. So she became very alive in the church. (Isn't this a beautiful metaphor? 🙂 )
I wish you a wonderful Christmas in your new home, May! Your mom will love you very much!